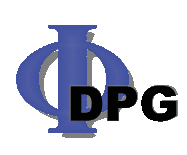 Programme

---

1. E-Proceedings:

The conference programme (E-proceedings) can be found on the following DPG page: http://www.dpg-tagungen.de/prog. Direct links to the section programmes are listed in the following table:





On the DPG E-proceedings page contributions can also be searched for via the author index.

In charge of the programmes of the DPG sections are the respective spokespersons.

2. Post-deadline Contributions:

At a later time you will find here updates to the conference programme and information about post-deadline contributions to the conference.