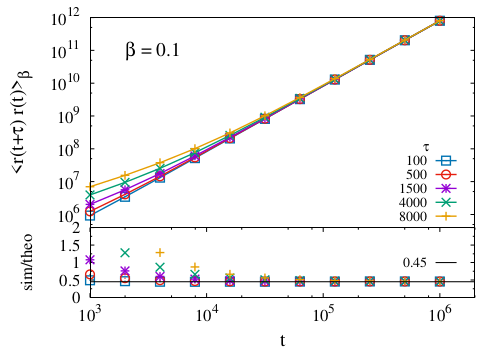 Position Autocorrelation Functions for Anomalous Transport
C. Giberti, L. Rondoni, M. Tayyab, J. Vollmer
We introduce an exactly solvable model featuring anomalous transport, the slicer map (SM). The moments of displacement of the model can be mapped to those of hightly non-trivial 1d transport model with quenched disorder, the Lévy-Lorentz gas (LLg) by matching the exponent for the mean-square displacement. Once this is done also the exact solution of the position-position autocorrelation function of the SM provides a faithful description of the correlations observed in numerical solutions of the LLg.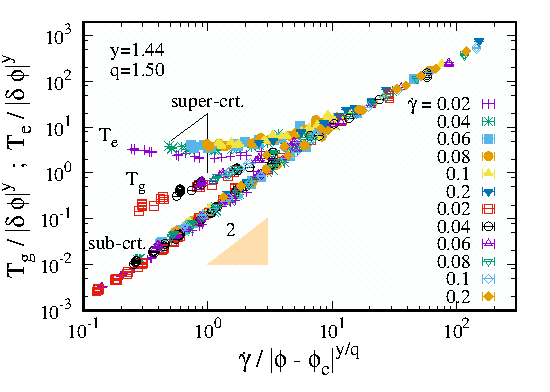 Temperatures of Dense Particulate Flows
S.H.E. Rahbari, A.A. Saberi, H. Park, J. Vollmer
Soft particulate materials comprise dense arrangements of entities, like bubbles or grains, that dissipate energy upon interaction. The description of their flow is a test case for the thermodynamics of far-from-equilibrium materials. We show that rare flucutations of the flows obey a fluctuation theorem, and that it can be used to define a temperature Te of the fluid. In the low density regime it agrees with the kinetic temperature Tg. In the yield-stress regime, where Te is not expected to be a sound physical observable, they differ.
Nature Communications 8 (2017) 11 » press release » arXiv:1702.07137 »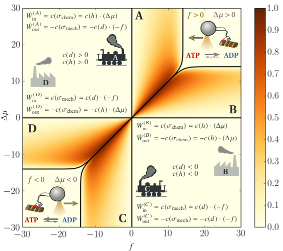 Fluctuating Currents
in Stochastic Thermodynamics
B. Altaner, A. Wachtel, J. Vollmer
Stochastic thermodynamics uses Markovian jump processes to model random transitions between observable mesoscopic states. Physical currents are obtained from antisymmetric jump observables defined on the edges of the graph representing the network of states. The asymptotic statistics of such currents are characterized by scaled cumulants. In the present work, we use the algebraic and topological structure of Markovian models to prove a gauge invariance of the scaled cumulant-generating function. Exploiting this invariance yields an efficient algorithm for practical calculations of asymptotic averages and correlation integrals.
Physical Review E 92 (2015) 042132 » Physical Review E 92 (2015) 042133 »
arXiv:1407.2065 » arXiv:1504.03648 »