Overview
The conference is addressed to all physicists working in the domain of Statistical Mechanics and Condensed Matter Physics.
Main topics
soft-matter physics
magnetic systems
complex systems and networks
non-equilibrium systems
interdisciplinary applications
Main dates
Sun, 29 March, 19:00: Welcome Reception and Registration
(ITP, Vor dem Hospitaltore 1, close to Ostplatz, see map under "Locations")
Mon, 30 March, 08:50 - Wed, 1 April, 18:00: Talks and Posters
Tue, 31 March, afternoon: Excursion to » Lutherstadt Wittenberg
Thu, 2 April, morning: Departure
Conference photos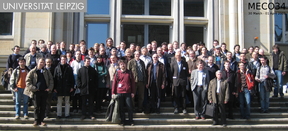 You can view some photos of the conference here.
Book of Abstracts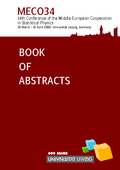 You can download the book of abstracts here (2.2 MiB).
Contact
Wolfhard Janke (Leipzig)
Steffen Trimper (Halle)
MECO34
Institut für Theoretische Physik
Universität Leipzig
Postfach 100 920
04009 Leipzig
Germany
e-mail: meco34@itp.uni-leipzig.de